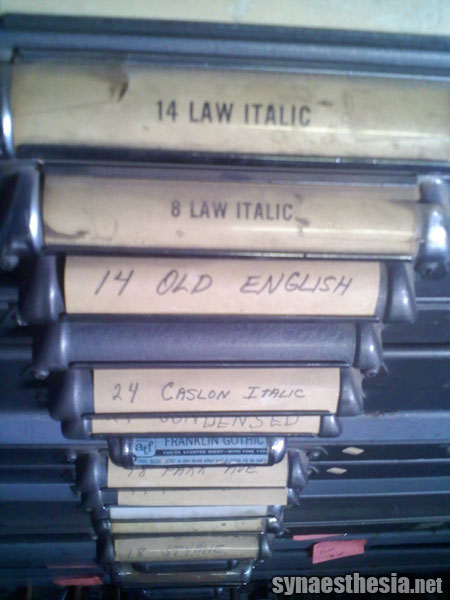 Instead of writing on one topic, why not cover a whole bunch of shit today?
I set the colophon for Volta. I like the way it came out, for the most part. I'm limited with Volta cause it's made from scrap papers — old projects, mainly. That's part of what keeps my cost down making them, which is a good thing, cause it's free. I had some typographical issues setting the colophon, and they wouldn't have existed if I bought paper for it…but oh well. I still like the way it turned out.
Hey — if you want Volta, and you're not sure if you're gonna get one, let me know. If I have some left, I'll send you one.
I'm already looking forward to the next issue, and it's going to have a movie theme. Themed issues of anything can be dangerous, but I'm willing to risk it. Part of the movie theme has to do with Volta #3's container / housing. It's going to all come together quite nicely. So, if you have a short poem, or some art (that you can duplicate 100 times) think about contributing. It's the bestest, most surest way you'll receive one.
I'm about to send Henry Denander and his Kamini Press a big ol' thank you for Bird Effort, Ronald Baatz's latest book of poems. It's a beautiful effort, and the poetry's smart and achingly beautiful. You should really pick up a copy and support both the poet and Kamini.
As I bang this out I'm listening to the 4 Men With Beards re-issue of Otis Redding's The Great Otis Redding Sings Soul Ballads and I'm wondering how, in all my 45 years, I missed this record. Sure, I have Dock of The Bay, and I scored In Person At the Whiskey A Go-Go at my very favorite used record store in the whole wide world — Eastside Records in Tempe, AZ. But nothing prepared me for Sings Soul Ballads. I've listened to side 1 seven times now, and the only thing that keeps me from flipping the record over — I just want to this to last…you know? 4 Men With Beards doesn't have a website, so if you want the record, just hit your local indie record store, or Google it…I guess. OK. On to side 2.
While I was waiting on my plane delay at Phoenix Sky Harbor back to LA, I found Dick Cavett's blog on one of his shows; this one featured John Updike and John Cheever. Honestly, I've never been a fan of Updike or Cheever, but I'm a huge Cavett fan. Wait. I really liked Cheever's "Goodbye, My Brother" (but who doesn't?) and Updike's book Still Looking: Essays on American Art. Anyways, I squealed like a little girl while I watched this particular show, and I have no idea why. I've never seen Cheever or Updike speak, and, like I said, I'm not a fan.
So what gives?
Oh, and side 1 of The Great Otis Redding Sings Soul Ballads speaks much more loudly, and much more clearly, than side 2.
At least to me.