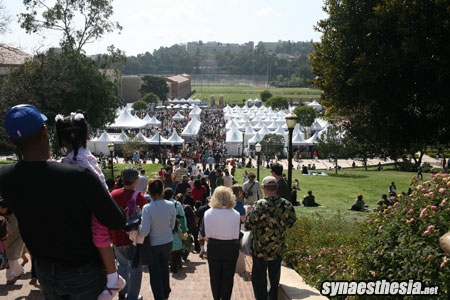 April whizzed by and me — without a blog entry for the month.
Can I make some time in May for anything synaesthesia?
I did make it to the LA Festival of Books. It was great. I went two days in a row, cause I needed that much time to check it all out. Plus, the first day I walked around the campus with no direction, just taking all that Academia in; so, a lot of the time I was just in the middle of UCLA and no where near the books.
Publishers were there. Booksellers were there. Even radio stations were there.
McSweeney's had a booth. So did Ammo.Vroman's was there, as well as some used and out-of-print dealers I've never heard of before.
The Buddhists had a booth, and they handed out all sorts of fun stuff, and it was all free. Of course they were super friendly and didn't try to cram anything down my throat.
The Scientologists were there, and their booth had three sets of E-Meters buzzing, and I was going to have my friend Debbie take a picture of me submitting to one of their tests, or quizzes, or whatever it is you submit yourself to while clutching their E-Meter, but I decided not to. I was gonna toss the pic up on my Facebook and write some witty caption about the whole experience, and as I was talking to Debbie about snapping the pic, one of the Scientologists actually approached me to take their test.
"I'm afraid you're gonna try and brainwash me," I said in a very friendly way. I know it might sound offensive, and I made sure she knew that wasn't my intent. But The Scientologist kinda picked up on where I was going with my joke, and all of a sudden she got kinda creepy and weird making fun of herself — which meant I definitely didn't want to take the E-Meter Scientology Quiz.
The Muslims had a booth, and they handed out all sorts of fun stuff, and it was all free. They were super friendly, too, and they didn't try to cram anything down my throat.
There wasn't a Christian Booth; however, near the Food Court one Christian lady was screaming and yelling at everyone who passed by, and she was yelling about how God took us all out the first time with water, and this time it was gonna be way worse — cause He's gonna use fire. And it's going to happen very soon. The Christian Lady wasn't friendly at all, and she didn't hand out a thing.
The people-watching was almost as good as all the books.
One of the girls at the McSweeney's booth was really cute, so I bought a copy of Bowl of Cherries by Millard Kaufman just to make some more small talk with her.
Next to the McSweeney's booth there was 826 Valencia, which is McSweeney's program to help young writers (middle schoolers and high schoolers) with after-school programs in the inner-city. I donated twenty bucks.
I think my very favorite part of the whole weekend were The Nicotines, a two-girl combo consisting of an accordion player and another on the saw.
I spent more money than I should have, but you already know that.