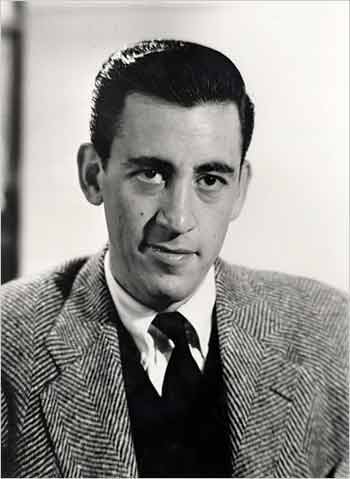 JD Salinger just turned 90. That makes him twice as old and me; or, better yet, I'm 1/2 way to being an old, old man.
Better yet?
Anyway, I don't know why, but (probably) just like you, The Catcher in the Rye really spoke to me, in the same way all great art does: Duchamp and Warhol, Coltrane and Miles, Lennon & McCartney, Kerouac and the Beats, Bukowski and rogue poets who starve themselves in order to keep writing poems.
I actually like 9 Stories better than Catcher. Well, wait a sec. Lemme think about that.
Depending on my mood, I like 9 Stories more than Catcher in the Rye. Like I said, just depends on my mood.
And really I love the whole idea of Salinger — for lack of a better term. Or a way to put it.
Salinger writes dismissible fiction for Post WWII pop rags, then gets a story or two into "The New Yorker", and then he drops his masterpiece on us all. It was about that time some high school kids used to saunter up to his compound in Cornish, New Hampshire, just to hang out and listen to jazz records. And one of them asked "Jerry" for an interview in her school newspaper. Salinger agreed, which scored the girl one of the great literary interviews of all time.
Great, of course, in the sense that it was the first — and last — Salinger ever gave.
The girl's journalism teacher knew it was something, cause it didn't wind up in the school's newspaper, but in the city's paper, and that was the last time those kids were ever allowed into his house again.
And that's the last time anyone ever heard from JD Salinger…to this day.
Which was 50 years ago — give or take.
For a while photographers and fans would make the trip to Cornish just to catch a glimpse. Or maybe even get a picture. There's a Life magazine article from about the time Franny & Zooey was published of Salinger clamoring down a hill holding two pails of what I assumed was water from a well.
But maybe not.
I once heard a picture was floating around of him waving off a photographer on the way to his favorite (and probably only) doughnut shop in Cornish…but I never saw it.
The pic I found here came from this article at the New York Times on his birthday…which promoted me to blog Salinger. I'm willing to bet this photo came from the same session as the one that graces the back cover (but only in the first few printings) of The Catcher…
And I'll admit Salinger's reclusive behavior — as well as his lack of publications — is what makes me want more. It makes us all want more. Cause, let's face it…if Salinger wrote a whole bunch of crummy novels and, late in his life, wound up selling Beanie Babies on QVC to make a few bucks, well…you know.
Just like if Jim Morrison woulda made it through that Paris night and found Jesus…a few years after making a couple bad solo records.
I wrote to Salinger once. It was right before I made Enemies and Friends. I actually wrote to two of my favorite writers (at that time) and asked them if I could publish a chapbook of their work. In addition to the letter, I sent Salinger a copy of the Harold Norse chapbook, Sniffing Keyholes, as well as Gifford's The Strangest One of All. Of course I didn't hear back from Salinger.
I did hear back from Tim O'Brien.
But I digress. In fact, I dunno what my point is here at all. I guess just to wish Salinger a happy birthday, even though I imagine him huddled around a fire, wrapped in a heavy quilt, and contemplating his life…and certainly not sitting in front of a computer, checking his e-mail, and Google'ing himself just to see if anyone cares anymore.