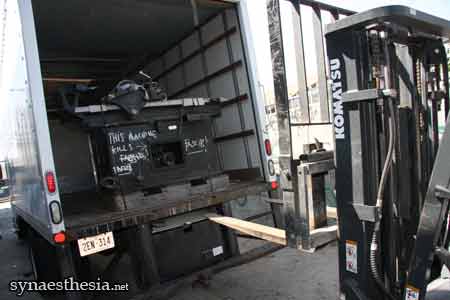 In 1998 I walked into Norman Hicks shop south of Market Street in San Francisco and bought some stuff. I had no idea what I was buying, nor what I was about to get myself into.
Let me quote the greatest living American poet:
"In Dispraise Of Poetry"

When the King of Siam disliked a courtier,
he gave him a beautiful white elephant.
The miracle beast deserved such ritual
that to care for him properly meant ruin.
Yet to care for him improperly was worse.
It appears the gift could not be refused.

Jack Gilbert
I certainly don't have a gift, but I certainly feel like I've got my white elephant: a 2500 pound piece of machinery…among other things. Norman also sold me a Chandler and Price paper cutter (300 pounds), and along the way I've accumulated another ton or two (literally) of equipment — ranging from type and ornaments, to slugs and spacing material…to two more presses (both Chandler & Prices (a 3″ x 5″ and a Pilot))…to all sorts of stuff I won't even mention.
Like the press the movers dropped…and smashed.
But I'm making the thing I love most.
The synaesthesia press is a Vandercook #219, along with what I just mentioned earlier: both smaller C & P's.
I dunno. Maybe I should have included this in the "about" page.
I think the hardest thing about having the Vandercook is simply having it. It is The White Elephant, and they're becoming quite valuable. In 1998 I paid $600 for mine (which included the biggest PatMag in the bed of the press, price included!) and I just saw one go on eBay for $6000.
But it's a great machine. It's a machine that will, indeed, kill Fascists. It has in the past; this is fact.
There are others that have done so.