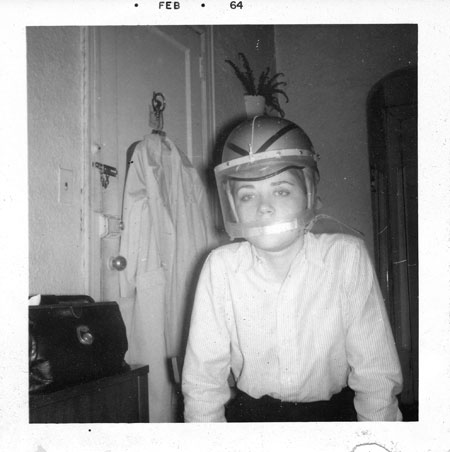 So I'm scouring the flea markets and second-hand shops and thrift stores and all that usual nonsense on a not-so-recent trip to San Francisco, and I was having terrible luck. I've never really had any luck in SF, though, so I wasn't surprised. I made one last stop over at
The Magazine
on Larkin Street. I used to live in the neighborhood, and it's one of my very favorite places in the city. It's the only store I know where I can find early Beat magazines and Betty Page bondage mags under one roof. Their Vintage Smut offerings are incredible — world class — as is their knowledge on the subject.
They've got a couple of boxes filled with hundreds of photographs; one box houses the tame, weird stuff, while the other features mostly hard-core smut. I like to rummage through both.
I pull an old Polaroid of a girl wearing a helmet. It's a motorcycle helmet, but it looks almost like an astronaut's. Upon closer inspection, I'm not even sure it's a girl. I'm pretty sure she's a she, but who knows for sure. I set it aside, but I wasn't ready to commit my 25 cents for it.
Deeper into the box, I pulled a second pic from the same sitting. This time, she's looking away in this sort of arty-farty way that intrigued me. I wondered if she had the camera on a tripod and was taking a self-portrait. I wanted to know if she worked in a lab — or if she might have been a doctor. I wanted to know why she was sitting for a picture in her helmet, and why she chose to look away on the second take. I wanted to know why one picture was developed in January, while she waited another month to get the other one developed.
I flipped the second picture over, and since it was priced at a dime, how could I put them back in that box?
Some time later — just a few weeks ago, actually — I bought a new scanner, and the first two things I decided to scan were the pictures of the girl in the motorcycle helmet. And when I started messing around with the two scans in Photoshop, it became clear to me what she was doing in the second picture.
Well, not so clear, really.
But something's about to go down, and it might not be good.
And at that second, when it dawned on me there was a second person living in this picture, and how that second person radically altered the mood of both pictures — it really startled me. So much so, I'm thinking of printing  something featuring the two images…cause that's how I roll.