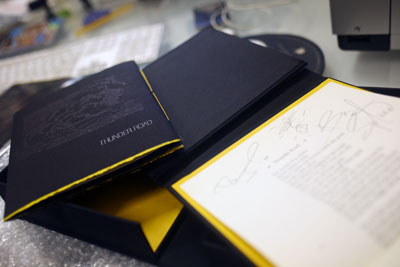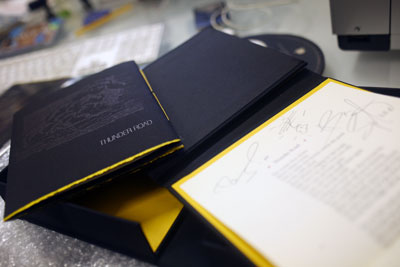 It really doesn't seem that long ago when my friend Mark approached me to help him out on a project involving Nick Hornby and Bruce Springsteen. Mr. Hornby had written a terrific essay on Mr. Springsteen's seminal rock song "Thunder Road". Mark had already approached both men and secured approvals to publish the proposed book — with the stipulation all proceeds went to charity.
Mark put up the materials, and I put up the labor and went to work.
I had constructed a book called Friends and Enemies using a dos-a-dos structure to compliment Tim O'Brien's two short stories, and I felt the same structure would work for "Thunder Road".
My work on Thunder Road took way longer than it should have — for which I am 100% responsible — and eventually I handed it off to Mark. He saw the book to its completion. Lead Graffiti and my friend Bill Roberts from Bottle of Smoke wrapped it all up into one beautiful package.
There's not much more to say about this on my end, other than Mark produced a terrific book, and all that's really important is the book is complete. I'm quite certain Thunder Road will stand The Test of Time.
And I still consider Mark a close friend.
Here's Mark's words on the book, as well as all the information you need to purchase a copy. The book was oversubscribed upon publication, and there will be no reprints. 100% of the proceeds from this project went to TreeHouse.